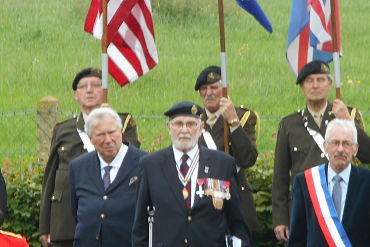 1st - 8th June 2021 (8 Days)
Normandy Landing Beaches and Commemorations 2021
GUARANTEED DEPARTURE.......we have already got 26 people booked so HURRY!!
ONLY £629 per person!
You will never forget a visit to the D-Day Landing Beaches along the Normandy coast, especially during the Anniversary week! This tour will include visits to all of the well-known battle sites - Pegasus Bridge, Gold, Sword, Juno and Omaha Beaches, Colleville Montgomery, Pointe Du Hoc, Arromanches & Mulberry Harbour - as well as attendance at the main commemorative events in Bayeux, Arromanches and Colleville Montgomery.
Making this even more memorable is not only the opportunity to meet surviving D-Day Veterans, but attendance to private events organised by the SE Normandy Veterans Alliance and the local Mayors. The service at Jerusalem Cemetery is one you will never forget. 
Included on this tour:
Executive coach travel
Door-to-Door pick up and fully guided
Ferry crossing via Dover
7 nights B&B at the Hotel de France in the centre of Caen
Attendance at the main commemorative events during the week
Private invitation to Exclusive Commemorative events 
FULLY GUIDED